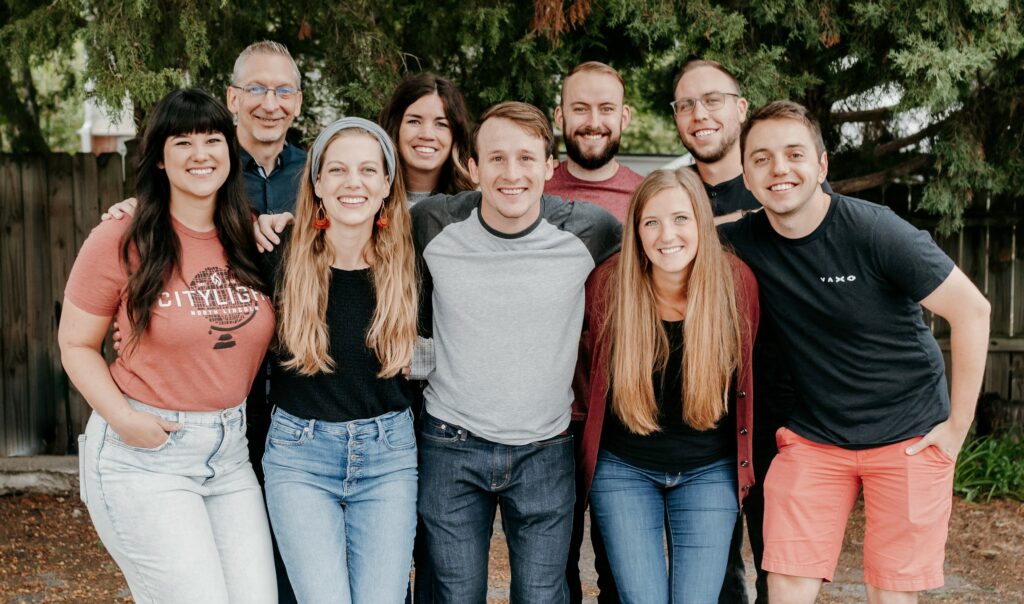 Planting and Partnering in North Lincoln
Two years ago a few city groups from Citylight Lincoln felt called to plant a church in North Lincoln in a neighborhood in and around North High School. This small pocket of Northeast Lincoln seemed to be an overlooked part of the city. North High School is home to the most impoverished families and neighborhoods and it's vastly under-resourced. It seemed like a great opportunity for ministry.
"At first, I wasn't keen on doing a church plant and didn't expect that it would be my City Group," shared Nate. "However, key groups and future partners were asking us 'would you come plant a church?"
This core group of planters recognized early on building relationships with other churches in the neighborhood was an essential part of planting. One of those churches was MiddleCross Church (MCC). MCC had been in the area for years and was already engaged with the neighborhood.
"Ben and I wanted to learn from guys who had been doing this already," shared Nate. "We would meet with Jeff and the team on a monthly basis. We gathered to commiserate together, encourage one another and we asked about life outside ministry."
As the core team continued to meet, a possible location for Sunday gatherings was determined. A Recreation Center owned by the City of Lincoln located across the street from Northeast High School was available on Sunday mornings. The facility had a gym and two classrooms and during the week it was used for Parks and Rec staff and a special needs program. There were questions of logistics and details and in the middle of it all, MCC stepped in again.
"MCC was wildly generous," Nate described, "they hosted our first prayer core group. When some of the pastors in and around this neighborhood discouraged us from planting here, MCC was super encouraging. They truly wanted to help us in any way."
MCC was more than helpful. When the Citylight North Lincoln's (CLNL) core team first met, it was MCC that hosted the first meeting. When the question of where would CLNL store their equipment during the week, it was MCC that stepped up again and offered storage space for CL's needs.
"We contacted Jeff and he said we could park and store all of our stuff at MCC," Nate revealed. "Every week we would show up at MCC, wheel and haul out all of our equipment, say 'good morning' and 'happy Sunday' and then we both would do our separate gatherings."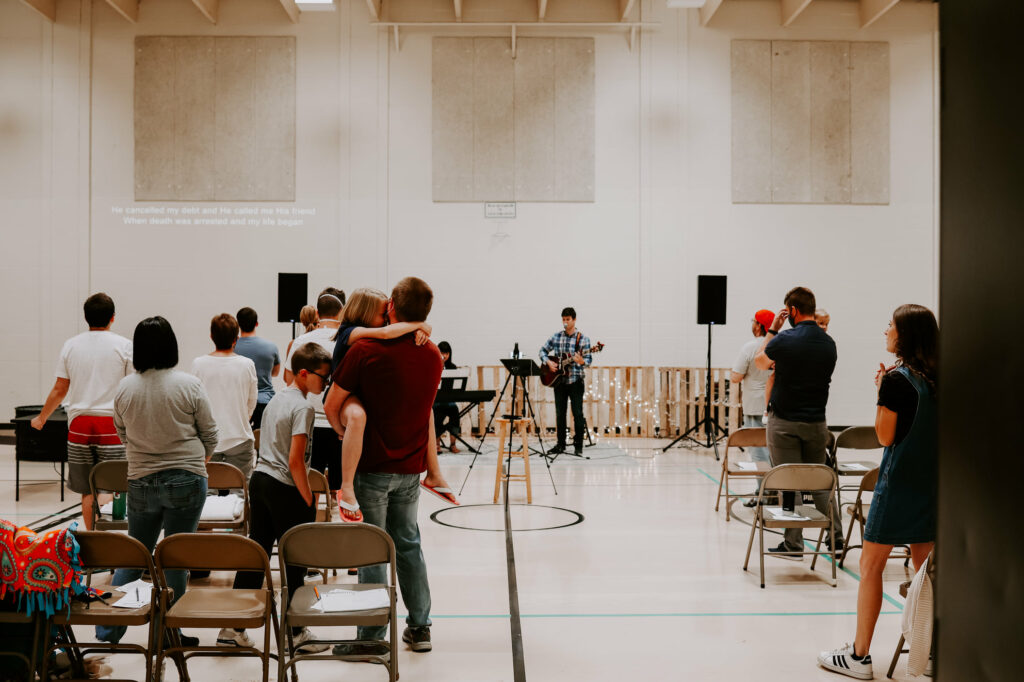 Six months passed and MCC received some news from their Youth and Equipping Pastor. He would be transitioning in the Spring of 2021. Shortly after this, in October 2020, Jeff told MCC that it was time for he and his wife to back to the Northwest and that he would be leaving too. The question on everyone's mind was 'how do we do this well?' 
"Our leaders started looking at all the possible options," Jeff described. "I asked everyone if one of these options could be CLNL coming in and taking over this building. The other possible option was to stay and hire an associate pastor and then I leave later. Six years ago MCC already had this experience of losing their pastors. It was definitely a long time of discernment for everyone."
Unexpectedly, a few months later, Jeff's daughter had a stroke that literally stopped all discussion and required he and his wife to leave for a long time of recovery.
"It was a super hard journey," Jeff revealed, "and as that was happening, COVID was still a fact and the other possibilities just drifted away. When my wife and I got back in May, we called the elders together and we met for three hours and at the end of it every elder agreed on the option of giving the building to CLNL."
Jeff immediately called Nate and told them the update and Nate said CLNL was all in if approved. The next step was a vote of affirmation from MCC's members. Within a few weeks, the members came together and the direction the elders received was shared with the body. Either MCC searched for another pastor or they would merge two church communities together. The vote was taken that day and all 46 members present voted unanimously to come under Citylight North. 
A two month transition occurred and on August 9th the last service was held as two separate churches. After MCC's gathering, members stayed for an open mic time and shared stories and gave testimonies until 2:30 that afternoon.
The next three Sundays both church bodies met at the Recreation Center.
"The idea was to go there rather than have CLNL come to "our" church," shared Jeff. "We came together as one church and worshipped in that space together allowing MCC to be the "new" group. For those three weeks, we all became CLNL…it would be who we are from here on out."
Nate jumped in and said "we also didn't want two groups to be formed…MCC people and CLNL people. We didn't want this natural division to happen. And we didn't want the Recreation Center to be the 'good old' days or to be the true CLNL season. We wanted this to be an invitation to all to the story God was writing. The first Sunday gathering with both MCC and CLNL people at the Rec Center was our 2nd birthday as a church so it was a celebration. It felt familial. People were connecting as one Body in a gym in rusty chairs. It wasn't about a building."
After three weeks of meeting like this, both congregations then joined together as one church at their permanent location, formerly MCC and now known as CLNL.
Merging Two Church Bodies
"It has been wild to see this whole process of two churches blending together and it's so common," Nate revealed. "We've had ministry leaders and pastors telling us to 'get ready'. That it's worth it but it's going to hurt a lot of people. And you know, we experienced a little bit but it's been wild to see the unity. I know that's a direct reflection of all of us petitioning Jesus for unity. All throughout this process on Tuesday mornings, leaders and elders came together and just prayed. We read scripture, we sat in silence, we prayed and asked over and over 'what is God telling us?' It's obviously made a big impact."
Having experienced a healthy merging of two churches with two diverse backgrounds, Nate and Jeff offer words of encouragement to churches and leaders who are going through this or who might in the future. First, in all you say and do, and in all you plan and prepare, one must have a humble posture.
"It's always been my heart to walk in this with transparency and as a community," Jeff disclosed with Nate. "I would encourage pastors to be humble and to also be open with the church from the start and with all the leaders. I have found also confessing in the fact that I don't know everything; that this is not a merger. You need to choose the communication over absolute clarity some of the time. It won't go well if you wait to have all the answers and then invite everyone into the process. Also, instead of doing strategic planning and then inviting God into the process, do the opposite. Intentionally create space for God to lead and expect Him to show up."
"A close friend in ministry shared with me that the Lord directs your paths," Nate shared, "and if He wants it to happen then it will rest in His sovereign guidance. Don't feel like you have to make something happen. All of those thoughts of 'we don't or if this doesn't work out, we will never have a space.' It's a good reminder to sit before the Lord and He knows what is best for us and the church."
Jeff concluded with this, "If there's something we did well it's that we thought what's best for the Kingdom instead of 'my' church. It wasn't from pursuing self-worth nor value nor security. I didn't want to think that Middle Cross 'ended' on my watch, but instead there was something more important rather than a church just continuing. Having a daughter who almost died put it all in perspective for me. To let go. Back in March, I was alone in my daughter's hospital room praying and crying, praying and crying. When you walk through that journey your ego just doesn't seem like a big deal anymore."
In January, Jeff and his wife are moving to the Pacific Northwest part of the country to continue to support their daughter and pursue kingdom ministry. CLNL will continue walking forward, one step at a time, as one church, engaging in their neighborhood, the nation, and beyond for God and God alone.