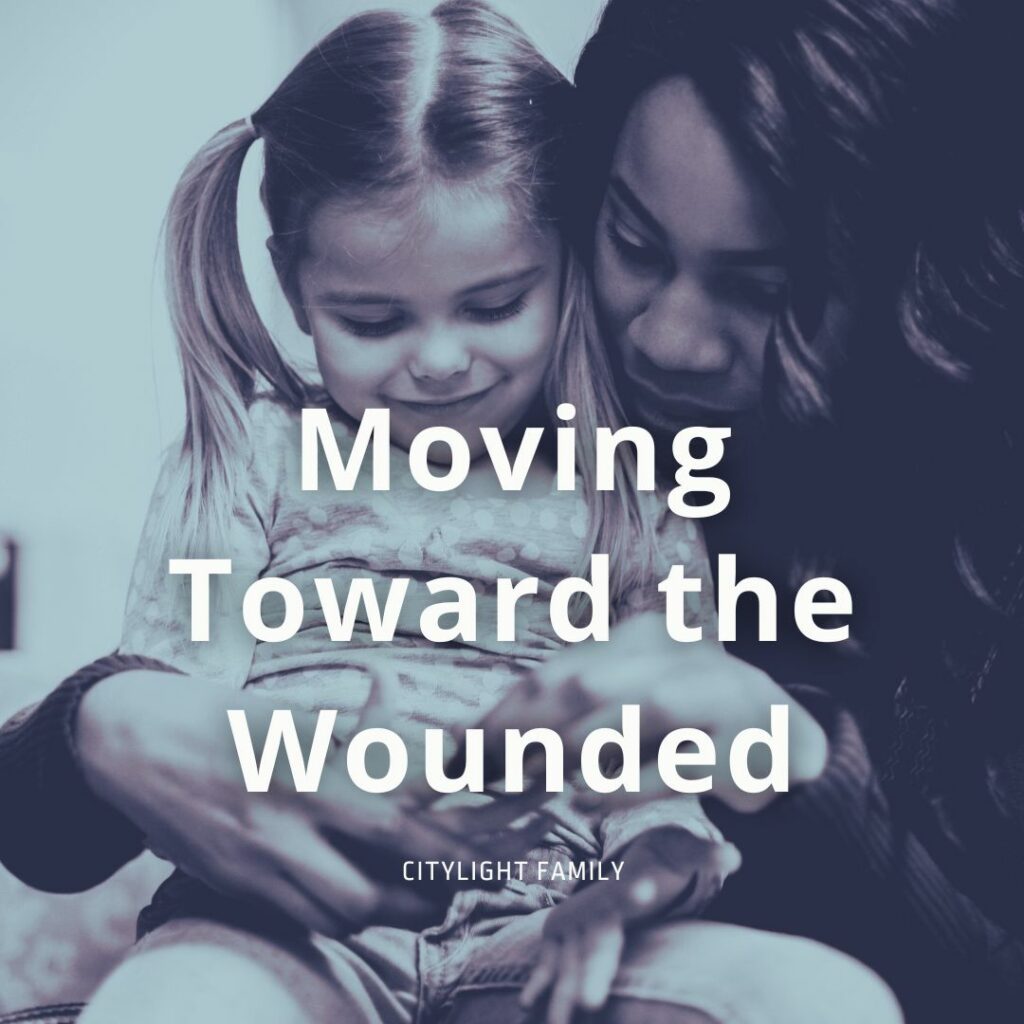 When Providence Church was planted in 2017, they were originally planning to be "Citylight Aksarben." That was the area of town they felt God calling them to– and they pursued multiple options for places to gather. But as those doors were closed, an event venue called the Pella on 41st and Farnam Street was available and was exactly where God was calling His church.
Considering God calls us to move toward the wounded, the people of Providence wanted to serve their new surrounding community. Providence had no specific direction for this area of town that was so far away from their original plan. 
"At first, our circumstances were frustrating as we dealt with these location issues," Kim Seipel shared. Kim is on staff at Providence and is part of the Santa Monica outreach team, a mercy ministry at Providence. "We were scratching our heads asking, 'why are we here at the Pella?' We thought we would be in the Aksarben neighborhood, and we were far from there."
Within a few weeks at the Pella, a woman who lived in the neighborhood was walking by and saw Providence's church flags. A few weeks later, she and a few women started showing up on Sundays. As Providence got to know them, they found out they were from a women's halfway house a few blocks away, the Santa Monica Shelter.
"The coolest thing is," Kim explained, "it wasn't even on our radar. We didn't know that these women or this shelter existed. God brought us both together." While the Pella may have felt like a disappointment at times for a church location, God was bringing His church to the people of Omaha. As Providence's early vision statement reflected, they desired to see God's will be done "In Omaha as it is in Heaven."
Over the next few years, God has revealed and equipped the people at Providence with new strengths and understanding as they have walked alongside these beautiful, new sisters in Christ. Since the move to the Thomsen Alumni Center on UNO's campus in 2019, Providence has had to think differently to stay involved with these women who have become near and dear to them.
"The Lord opened a door for a group of us to go into the shelter once a month to have devotional time, do a craft, eat some dessert, and enjoy fellowship together," Kim said. "We then were given permission to give rides to church on Sundays. This has deepened some of those relationships and has also started to work in the hearts of the staff at the half-way house. Initially there was some suspicion and uncertainty about where we were coming from and why, but over time we demonstrated legitimate care for the clients and staff there."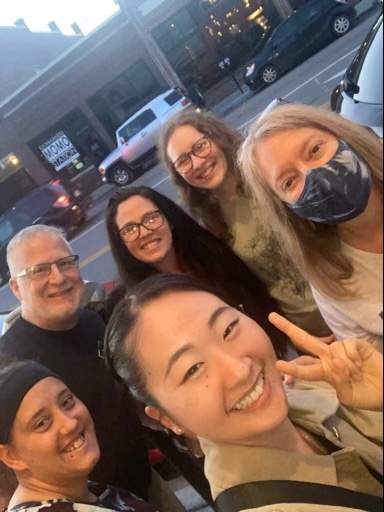 When the house was locked down tight due to COVID, Providence made weekly supply drops of toilet paper, personal supplies, handwritten notes, and craft activities to keep the women encouraged and engaged. When the house was able to open back up, they contacted Providence about coming back to do monthly craft and fellowship time. Since then, the Shelter has now opened another house, and the Santa Monica staff reached out to Providence to see if they knew anyone who could be on staff there. 
"To invite our people to potentially be on staff is incredible," Kim described. "Just as the Lord opened our hearts toward them, the Lord opened their hearts toward us. I also think the biggest thing we have learned is to avoid the project mentality. It's easy to start to think if I do this thing, any kind of mercy ministry, then I am doing 'good.' Viewing any ministry as a good thing I can 'do' reveals a project mindset. The most successful stories from the women themselves and from us have been where ministry is relational. As relationships develop with these women, and they are known, accepted, and surrounded with Christian community, these ongoing relationships are where God produces fruit."
New Partnerships
Another blessing has been an unexpected partnership with another community ministry. New Community, led by Eunice Arant, is an extension of Good News Jail & Prison Ministry. New Community is dedicated to spiritual and social renewal among women pursuing successful reentry into society post-incarceration. During the Covid season, New Community was not able to meet as a large group, so Providence started hosting one of the small groups at their office.
"The Lord put the two ministries together and has helped us see the connection between them," Kim shared. "A half-way house meets the needs of women in a certain spot in their journey. Other ministries do a great job following along with them afterward. Seeing the bridge between those two was an eye opener."
Kim continued by saying, "several women who are currently involved with New Community are former graduates of the Santa Monica House. These women are now getting plugged into New Community mentoring groups. The Lord has used the past two years to bring deeper relationships into these ministry areas when we didn't know that was the greater need. Involvement with Santa Monica House and New Community has enabled us to build healthy relationships with women who are trying to walk in sobriety. This has given them a picture of what it means to walk with Christ, and has given them friends who are committed to their thriving."
One thing everyone at Providence has come to realize is that you don't have to have a prison conviction or past drug abuse in your story to be a friend to someone who is in that spot. Everyone, including these women, need loving friendships.
"On the flip side, having that background doesn't disqualify you from ministry either," Kim expressed enthusiastically. "It may uniquely qualify you to encourage and help someone who is currently struggling through that. As God gives healing in our lives, He can use our experiences as an encouragement to someone else."
Steps Toward the Wounded
When asked how Providence would encourage other churches to move toward and engage with the lost and wounded, Kim offers this:
"First, pray. Pray that the Lord would bring people into your path, for places where He wants His name and love to be known. He knows just the right people to bring together. Pray also for laborers to have vision for and join in the labor in that part of the harvest field. Pray for hearts that are open to listen and see the needs and follow God's direction. God's direction might even change down the road. But don't be afraid of that – be sensitive to His leading and He will direct you in just the way that people will be able to see His love.
The people at Providence have also learned to move toward people with different backgrounds. They have learned that just because your life experience is different doesn't mean you can't meet a real relational need. Often the need isn't necessarily money, and it's so easy to write a check, but it's harder to enter a relationship. It's in those relationships where you will see the fruit.
"Giving money might make us feel good," Kim described, "and when God is urging us to do this, we are wise to listen to His voice. The check can make a huge difference for someone who is struggling to make it through a challenging season of life. But we must not stop there – we must listen for the real heart needs of people. Sometimes the most loving thing to do is NOT to give money. In some instances, it might perpetuate the issue that is going on instead of solving it. We have had opportunities to help women learn how to set and follow a budget, how to confidently apply for a job, and some have given women rides to and from court. That's where the relationship happens."
Over and over, the consistent theme is to be open to the people who come through your doors and really listen and hear what their heart needs are. Kim shares that "the Gospel is the true need of all our hearts. Once someone professes Christ, the relational needs do not end. The more relational touchpoints people have, the more people in a community feel involved in the family of God – and with God Himself. The people of God weren't meant to live the Christian life alone – we need one another to grow and thrive in our relationship with God. This is obviously on God's heart, and He is the one who leads this through His Church."
God has uniquely planted Providence and His Church at the place, at the time, for the task He assigned. In Acts 17 Paul tells us that God has preordained our times and even the boundaries of where we live. It was not an accident Providence was at an event venue for a season. God was moving His Church for His Kingdom purpose, to share His love with those who need His healing power.